Starting Five: Keep freshmen eligible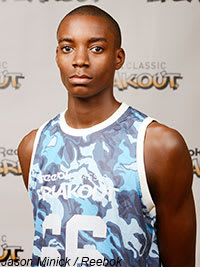 Last week, news spread that the Big Ten was feeling out conference members to see if they should engage in conversations about freshman eligibility. In this week's Starting Five, we discuss that along with Washington State's newest point guard, the impending decision of senior Sacar Anim and much more.
The year of readiness
Late last week,
Maryland
's student newspaper, The Diamondback, reported that the Big Ten was circulating a document to member institutions to see how they feel about engaging in a national discussion about freshman ineligibility. Or as the Big Ten termed it, a "Year of Readiness".
The idea is that the Big Ten wants to see if conference schools are interested in having their football and basketball players sit out their freshman season and having a discussion with other conferences about making it a rule.
Those who are in favor will talk about how it will lead to greater success in the classroom. Others will talk about how it would mean more mature players and a better game. Some will just spew something about how they are tired of college being turned into a minor league of sorts for professional sports leagues.
It is one of the most ill-conceived ideas in quite a while and it would be a surprise to see any real discussion about making freshmen ineligible take place. Over the weekend, the idea was largely crushed in the court of public opinion, and rightfully so.
Should that conversation get real, it will hurt the recruiting of any conference that says yes to the idea -- assuming it isn't made a national rule -- and in some cases it could lead basketball prospects to overseas professional leagues or a year of prep school to prepare for the NBA. The amount of freshmen who can legitimately go one-and-done is awfully miniscule to craft a rule that seems to be a bit reactionary towards kids leaving early.
Also, it is hard to take serious any talk about conferences wanting to make things easier on their student-athletes when they have late night national TV games on school nights where teams have to travel long distances. If they care so much about them being able to handle school, surely they would realize kids getting back to campus from a game at three or four in the morning and then having to go to school that day is a bigger issue than freshmen playing.
Bottom line, the best players should play regardless of year in school and college programs and conferences would only be setting themselves up for danger by legitimately considering making freshmen ineligible.
Despite rumblings from the Pac-12 and Big 12, in addition to the Big Ten, it is hard to imagine this concept ever gaining much traction.
Wazzu lands junior point guard
So far, there are some worries about the overall depth at the point guard position in the class of 2016. With that in mind, there are a lot of programs out there who have their eyes on players they would like to land before everybody else gets out and sees them during April's live evaluation weekends.
There's no saying for sure that's why
Washington State
went so strong on Los Angeles (Calif.) Cathedral Prep floor general
Milan Acquaah
, but there's also little doubt that the Cougars will be happy to be one of the haves instead of the have-nots heading into spring recruiting.
A long and slender 6-foot-1 creator, Acquaah is a rangy ball-handler who can get others involved with his penetration and passing.
"Coach (Ernie) Kent likes Milan's ability to run a team, understanding of how to make his teammates better and make the right basketball decisions," Cathedral Prep coach William Middlebrooks said. "Milan has a high basketball IQ, which is a rare find at the point guard position these days."
Currently rated a three-star prospect, Acquaah is Washington State's first commitment from the class of 2016.
Senior shooter to announce
One of the winter's breakout players from the senior class has been three-star shooting guard
Sacar Anim
.
The 6-foot-4 senior at Minneapolis (Minn.) DeLaSalle has had a huge season and as a result, he has become heavily targeted by high-major programs in search of a scorer in the spring.
Sunday night, Anim tweeted that he would announce his decision during a ceremony at DLS on Monday afternoon.
Because it is recruiting and things can always change, there doesn't appear to be a lot of mystery involved with this recruitment. Anim took an official visit to
Marquette
last week and they just released four-star combo guard
Nick Noskowiak
from his scholarship.
Anim still has to make things official this afternoon, but things are looking good for Marquette to be his choice.
Strong campaign for R150 junior
It was a strong junior season for three-star prospect
Kodye Pugh
.
A 6-foot-7 small forward at Baltimore (Md.) Boys Latin, Pugh has played in front of several college coaches and been quite productive. He has also did it when it mattered most.
During Latin's Maryland Interscholastic Athletic Association B conference championship game win, Pugh produced 24 points, 10 rebounds and five steals to help Latin to their first title since 1990.
With excellent size for the wing, Pugh is a versatile and solid high-major prospect. He can make jumpers, has the size to post up and is a good rebounder on both ends of the floor.
Pugh's most recent unofficial visit was to Virginia Tech during the season, but now that he's finished with his season, Pugh is seeing if there are any other places he can make for a game. This spring, Pugh will play in the Under Armour Association with the We-R-1 travel team.
Bagley a possible No. 1 for 2018
Later on this week, Rivals.com will release updated rankings for the class of 2017. While researching and watching games over the weekend, though, the very likely future No. 1 in the class of 2018 really stood out as 6-foot-10 freshman
Marvin Bagley
dominated in a game film we watched from Tempe (Ariz.) Corona Del Sol's matchup with Mesa (Ariz.) Red Mountain.
Rivals.com has already written about Bagley on a few occasions and his bright future has never been questioned. However, the future five-star looked even better than advertised in the game from early February where he went off for 31 points.
A long and athletic southpaw, Bagley sank a calm and smooth-looking three-pointer early before showing off his entire arsenal.
He ran the floor, dominated on the glass and scored with more versatility than should be allowed for a high school freshman. The polish he has to go along with his athletic gifts is simply astonishing. He makes jumpers from mid-range out to the three-point line, he plays above the rim on the offensive glass, he can post up on either block and he's an advanced ball-handler and passer for his size and experience level.
Rivals.com won't rank the class of 2018 until after this summer and there is, of course, time for things to change. However, if there's a better freshman in America than Bagley, then the top of that class is going to be better than outstanding. Bagley should probably be considered a top five prospect in the country, regardless of class.

Click
Here
to view this Link.