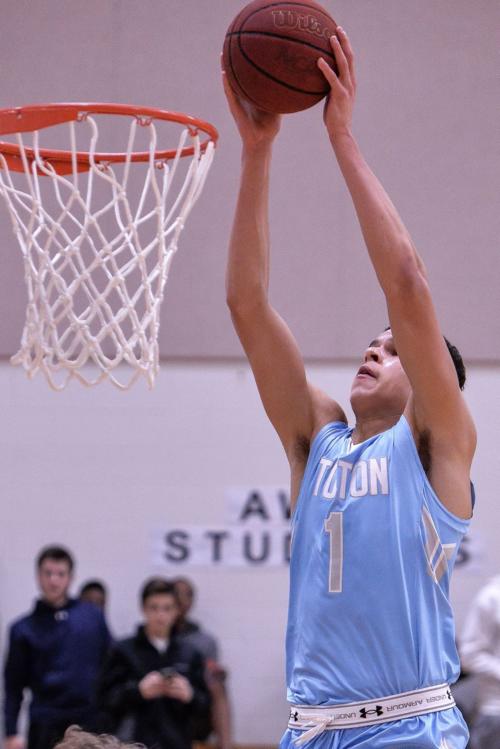 COLUMBIA, MO. • Just 17, Michael Porter Jr. already appears on NBA mock drafts for 2018. That's just two years away, which means draftniks expect the current 6-9 junior at Father Tolton High School to last just one year in college before turning professional.
For now, Porter is focused on leading his team to the Class 3 state championship. The Trailblazers, ranked No. 1 in their class, play for a district title Saturday in Ashland with their eyes trained on the next month's state semifinals at Mizzou Arena.
This week, Porter sat down for an interview to talk about his game, his recruiting and his future for this story. Here's more from our conversation:
Q: How has your game evolved over the last year?
A: This year I think I've become more of a complete player. I'm getting after it on the defensive end. I'm averaging about 14 rebounds a game, so I've been crashing the offensive and defensive boards. And I just think I've gotten better as a leader and gotten my teammates involved. I don't have to score 30 to take over a game anymore. I can do it in different ways. That's probably how I've grown the most.
Q: Are you still growing?
A: Yeah, I think I've got an inch or an inch and a half more in me.
Q: You're 6-9 now, but even if you reach 6-10, you still see yourself as a wing player?
A: Of course, I want to be a guard. I hope that I just get taller and that adds to my capabilities but doesn't take away from what I can do.
Q: As a 6-9 or 6-10 player on the wing, what kind of player can be you become?
A: It's hard to guard (me) because if you put a little guy on me I can shoot right over them and if you put a bigger dude on me I can usually blow right past them. I've worked on my skills, but I'm nowhere near close to my potential yet. I'm just going to keep working.
Q: How do you challenge yourself? I imagine playing against Class 3 Missouri teams gets easy at times.
A: I'm not working for high school. High school is a tool that's going to get me where I want to be in the future. I'm working for college and the NBA. That's what keeps me hungry. I'm not comparing myself to these high school kids. I'm preparing myself to the next level.
Q: But you're still driven to win at this level, too, right?
A: Of course. You've got to realize that in high school you're right here, right now. So I'm not taking it for granted. You only get high school once, and it's a great opportunity. But at the same time you can't sink to the level of your competition. You need to stand out and realize that your goals aren't the same as everyone else's.
Q: How do you handle all the attention and everything that comes along with being Michael Porter?
A: I think my parents help me quite a bit. They've both been through it a lot, especially my dad. He's been through this a lot — not to the magnitude that I've gone through but he has a lot of tips to stay grounded, stay humble and not be content. My best friends keep me accountable. They let me know if my head's getting too big.
Q: You've said you want to decide on a school by this summer. Does it feel like a big burden you're ready to unload?
A: I'm handling it in stride, but it does take a lot of time to think about it all the time. College is a hard choice because there's so many schools you can see yourself flourishing at. I hope to get it out of the way this summer just so that I don't go into my senior year with it on my mind. I haven't really cut it down any more than I already have.
Q: But I have heard Oklahoma is more in the mix lately, right?
A: Yeah, Oklahoma has been in there a little more. Me and Trae (Young) have been talking about Oklahoma. He loves it there. He shed some light on that program for me, so yeah, they're back in it for me.
Q: Trae is from Norman, so I'm sure he's seen that program up close. (Young, a four-star point guard in the 2017 class is Porter's teammate on MOKAN Elite, their AAU team.)
A: Yeah, and if he likes it … I mean, he doesn't talk about too many schools the way he talks about Oklahoma.
Q: How serious are you two about playing at the same school?
A: Yeah. It's a lot harder now that we're in the middle of (the recruiting process), but I still think it's going to work out. There's a few schools on my list that are on my list just because I'd be going to school with him. They're not because I would go by myself. We'd have to be a package deal, and he's interested in them, too. It's a real thing, but it's not 100 percent.
Q: How do you view Missouri's program right now?
A: I respect what they're trying to do there. You've go to think about it: That's a coach (Kim Anderson) who just got there a couple years ago and he has all brand new players. He restarted the program basically. You can't shame them. Look how young they are, all freshmen and sophomores. They have a lot of potential I think. I think they're going to get there. I'm not looking at that program and saying, 'Man, they're trash. I'd never go there.' I'm looking at it like it's a growing program and I'd have a chance to do something great there if I wanted to.
Q: Other programs on your list are more established, but would it be appealing to go somewhere like Missouri and have a chance to be the player who turns things around?
A: There's an appeal to each school on my list. Like Kentucky and Duke and Kansas, those are the schools where I feel like I can go and definitely get prepared for the NBA after one or two years. Mizzou, it's a school where I think I can go and be remembered forever. Washington, I'd have a chance to play under my godfather (Lorenzo Romar). At Oklahoma, I could play with Trae. There's just something about every school, and that's what makes it so hard.
Q: How important is proximity to home and being close to your family?
A: It's on my mind, but I'm not going to stay home because I'm trying to stay close to family.
Q: What kind of advice has your mom given you through this process?
A: She really just tells me that there's a lot of voices telling me where to go, but my mom and dad don't pressure me at all about schools. They want me to go where I feel is the best place for me. They're going to talk to me about it and give their opinions, but at the end of the day, they know it's my decision.
Q: Are there some coaches you've build better relationships with than others?
A: Me and Coach Romar talk about every other day. That's probably the best relationship I have right now, but he is my godfather. Coach Anderson, I see him a lot because I'm at (Mizzou) Arena working out quite a bit. Then (Kansas) Coach (Bill) Self I talk to quite a bit.
Q: How realistic do you think it would be to jump to the NBA after one year in college?
A: I think it's realistic for me. I know I have a lot of growth before I get there, but it's doable for me because I know my work ethic. I think I can do it. But you can't underestimate that those are professionals and I'm nowhere near that yet. I just have to keep working.
Q: Why Tolton for you and your brother after your sisters had so much success at Rock Bridge? (Older sisters Bri and Cierra both won multiple Class 5 state titles at Rock Bridge, a public school, while Michael and younger brother Jontay both attend Tolton, a Catholic school that opened in 2011.)
A: Tolton wasn't around when my sisters came out of middle school, so if it were here they probably would have came here. My parents just thought it was a good fit. We can learn about our faith. I'm not Catholic but I'm a Christian, so it's cool to learn about my faith. And it's an amazing basketball opportunity as well. It's a good fit for me
Q: What's your brother's potential? (Jontay has already committed to Washington's 2018 recruiting class.)
A: His ceiling is as high for him as it is for me. He's 6-9 or 6-10. I wouldn't say he's a guard with big man skills, but I'd say he's a big man with guard skills. He can guard the five, and I don't know I've ever seen any dominate him. He averages six or seven blocks a game. He's ridiculous. His timing is great. He's just going to keep getting better.
Dave Matter brings you the latest updates from the Mizzou sports scene.