Five-star Paolo Banchero shines as versatile, polished prospect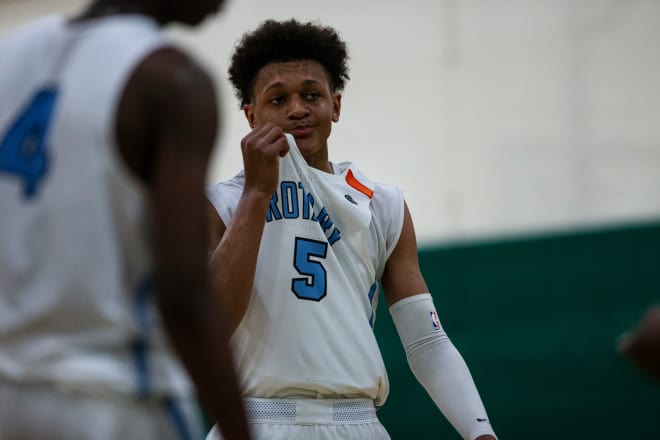 Ranked as one of the five best juniors in America, Paolo Banchero is also one of the most productive and polished underclassman prospects nationally.
A 6-foot-8 forward that has already completed a full year on the Nike EYBL circuit playing two years up against some of the best nationally, Banchero discussed his identity as a basketball player.
"Versatile, that is the main word, but also being very productive," he said after his time at USA Basketball. "I don't take a lot of bad shots, I don't like to turn it over and I just try and do what my team needs me to do."
Offers from Alabama, USC, Oklahoma and Washington are already on the table.
IN HIS OWN WORDS 
Washington: "It is a good program. I am cool with some of the coaches. Coach Hop (Mike Hopkins) is a cool coach and he has a lot of energy. It is good to see Ray (Raequan Battle) stay home and with Marcus (Tsohonis), we weren't really sure where he was going to go, but I am happy that he committed to UW."
USC: "They offered me back in June and I was supposed to go down there for an unofficial visit but I came to USA Basketball instead. So, my dad and little brother, who had a basketball camp down there, went on the unofficial visit for me. They met all of the coaches and took a tour around the facility.
"They've got Kevin (Porter) coming in; I grew up with him. They got Mobley (Isaiah), so you can see they are making some moves. L.A. is a hotbed for basketball, and I think Kevin is going to have a breakout year for them out there. I am excited to see how he looks."
Alabama: "They offered me at Peach Jam back in July. It is definitely a program that I am going to look into. They have Avery Johnson out there coaching, an NBA guy, and just had Collin Sexton go there and be a one-and-done. John Petty, and there is a guy from Tacoma that went there, so it is definitely a program that I will be looking into."
Oklahoma: "They offered me in July. One of their coaches knew my mom in the past from outside of basketball. They said he loved my game and it is cool with them having guys like Trae Young and Buddy Hield in the past. It is one that interests me."
RIVALS' REACTION & WHAT'S NEXT
A super-skilled and polished frontcourt prospect, Banchero is someone who can be used all over the floor. He has gotten better with his perimeter jumper, and he is lethal out of the high post as a scorer and passer. He causes just as much damage in the paint as a rebounder and finisher.
On the Nike EYBL circuit this summer, Banchero was tremendous, as he posted per-game averages of 13.8 points, 7.8 rebounds, 2.1 assists and 1.1 blocks.
Banchero told Rivals.com that he will take an unofficial visit to Oregon State on Nov. 3, and he is expecting an offer from the Beavers' coaching staff. Expect his recruitment to only expand in the coming years, with the best programs entering the picture. Washington could have the leg up, thanks to its proximity to the five-star prospect and the fact that both of his parents went there.