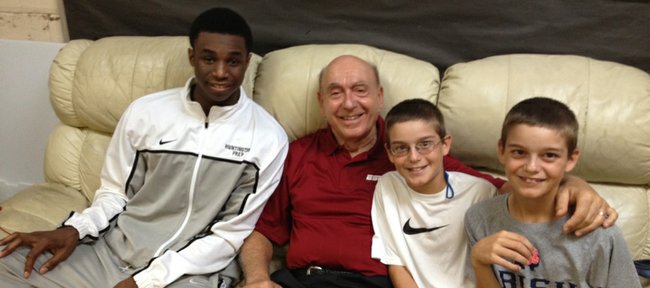 Salisbury, N.C. — The irrepressible Dick Vitale was wrapping up a book signing on the eve of his recent induction into the National Sportscasters and Sportswriters Hall of Fame, and he was running late. NSSA president Dave Goren advised that he needed to get moving, and when that didn't work, Vitale's wife, Lorraine, took the baton.
He was behind schedule for his next obligation because I asked him what he thought of Kansas University basketball recruit Andrew Wiggins, and when he started talking about him, he couldn't stop himself.
"I've been talking, what can I say?" Vitale said to Lorraine. "Why am I in the Hall of Fame? Cuz of my talking."
Retorted Lorraine: "You're going to miss the Hall of Fame if you don't stop talking."
Even that didn't work. He continued to move his lips because next to urging people to go to "dickvitaleonline.com" to make a donation for pediatric cancer research, "even if it's just a small donation," conversing about a special young basketball talent is what most noticeably puts the always-on Vitale into overdrive.
"I live in Sarasota, so I went to Fort Myers to see him play," Vitale said of Wiggins. "I went there with the idea that he can't be as good as advertised, but I also had that same feeling when ESPN told me to do the first game that LeBron James was televised. I didn't want to do the game on TV. I said we're making the kid too big, too early. They said, 'No, we want you to do the game with Bill Walton.' 'Bill Walton? We're going to walk in that gym and make that kid's head so big.'"
It didn't take Vitale long to realize ESPN had made the right decision. There was no point in trying to stay quiet about a talent so outrageously advanced beyond his years.
"We did it," Vitale said. "About three minutes into that game, I couldn't believe what I was watching. I turned to Walton, and I said, 'Hey Bill, I came here and I wondered if he was going to be as good as advertised. Forget about it. He is so much better than advertised.' I watched him take five kids from Oak Hill, all signed Division I scholarship players, and he made them all look like they never played the game. The next day, I get pounded for being too positive about a young kid. I'd like to see those people now. Four MVPs in five years."
In telling that story, Vitale wasn't saying Wiggins would be as good as James, just that he believes that, like LeBron, Wiggins is better than advertised.
"Wait 'til you see his explosiveness," Vitale said. "And what a great kid."
Vitale drove with two grandsons, twins Connor and Jake Krug, from his home in Sarasota to Fort Myers to watch Wiggins play for his high school, Huntington (W.Va.) Prep.
"He's for real," Vitale said. "Explosive. Great first step to the basket. And a great disposition. Almost like
LeBron. He could care less if he gets 30. He just wants to win. Same with Wiggins. Not a kid who has to get the ball all the time. Just wants to win. My grandkids were sitting under the basket, and they couldn't believe it. His jumping ability. Wait 'til those Jayhawk fans see this kid. They're going to go nuts."
Explosive. Wiggins, the Canadian sensation whose mother ran in the Olympics for Canada and whose father played in the NBA, sounds a little like Ben McLemore, eh? Vitale smiled a smile that suggested he didn't think I quite was getting what he was telling me, a look that said this time he wanted me to listen to what he was saying and listen closely.
"McLemore's really good," Vitale said. "Very good. But this is another level. Another level."
He nodded his head, as if to ask, "Now do you get it?"
Vitale said Wiggins asked him to meet with him after the game to impart advice. With his grandchildren listening, Vitale warned him about bloodsuckers who will angle to attach themselves to him.
"I told him, 'Wherever you go to school is going to be a great school, but I want you to understand, a lot of people are going to be around you, nobody gives you anything without wanting something in return,'" Vitale said. "So make good decisions."
Vitale said his gut tells him Wiggins will be able to do that: "I told him, 'The one thing you have going for you is you have a mom and dad that have both been there. Both are superstars. They understand, so they can guide you.' I said to my wife, 'I can tell this kid is headed in the right direction.'"
The book signing drew to a close, and the woman at the cash register asked Vitale to personalize a copy of his latest book, "Getting a W in the Game of Life: Using my T.E.A.M. Model to Motivate, Elevate, and Be Great."
"What's the date?" he asks.
"June 9," she said.
"Oh yeah, it's my birthday," he said on the day he turned 74.
Love at first sight
Later that night, Vitale took the microphone at a barbecue party and told the story of the night he first set eyes on his wife.
"All my buddies were young high school coaches, and we would gather at a singles club after their games Friday nights," he said of a time when he was a young assistant basketball coach at Rutgers. "All of a sudden, one night we're sitting at a table, and here comes these two young ladies, and they walk in wearing hot-pants and boots."
Lorraine tried to stop him at this point. Too late. He continued: "They come strutting in the place in Ocean Park, N.J., and one of the guys said, 'Oh my god, look at her.' I said, 'Guys, don't even think about that redhead. She's mine.' And I asked her to dance."
And she said no, thank you.
"Every guy here who's ever asked a lady to dance, the most lonely feeling in the world is that no you get when you ask a woman to dance," Vitale said. "I had to walk back, and they started busting me. They were giving high-fives, busting me. I said being the recruiter I was, I'm going back, I'm going back a second time, true story, she rejected me again. Finally, they were ragging on me so much I said, 'Guys, I'm not a betting guy. I never bet. But put some money up right here. I guarantee I'll get her to dance.' I went back to her, and I said, 'Look, I want nothing, nothing but a dance. Please dance with me. My buddies are betting me. In fact, I'll tell you what I'll do, I'll give you the money.' I'll tell you what. We danced, and we've been dancing 42 years."
At the after-party back at the NSSA headquarters hotel, when his cell phone broke down, Vitale turned to Lorraine and to others for help, but always returned back to her to calm the waters. They'll get it fixed, she assured him.
"He never goes anywhere without his phone," Lorraine said.
One night later, George Bodenheimer, president of ESPN from November 1998 through 2011 and now executive chairman, introduced Vitale at the colorful commentator's 12th hall-of-fame induction. Bodenheimer and Vitale, a forever-linked pair of underdog American success stories, first became friends when Bodenheimer worked as a mail-room clerk at ESPN, and one of his duties was driving Vitale to and from the airport.
"Of course," Bodenheimer said, "behind every successful man is a surprised woman."
Pediatric cancer
Vitale's speech, as with every one he does, zeroed in on the need for everyone in the audience to do what he or she can to help in the funding of the fight against pediatric cancer. He mentioned that the Dick Vitale Gala has raised $10.3 million in eight years. Kansas basketball coach Bill Self, singled out by Vitale for his generosity, was honored along with former UConn basketball coach Jim Calhoun and former Florida State football coach Bobby Bowden in May. The gala, Vitale said, raised $1.7 million.
In carrying the torch for the late national-championship coach Jim Valvano, Vitale, fellow broadcaster and former coach Bob Valvano (Jim's brother) and countless others involved with college basketball have joined the fight. Vitale's is the loudest, but not the only voice. He never apologizes for his volume.
Spending parts of two days with Vitale confirmed suspicions that he is one of those rare people blessed with a kind enough heart to treat everybody the same, treat everybody well, make everybody in his path feel important.
"Nobody has more fun broadcasting than me," Vitale said. "If you don't believe me, come with me to a game and watch me. And watch the kids. I may be 47 in reverse, but I act 12, and I'm going to continue to act 12."
If you don't like that, he welcomes you to change the channel, as long as you first visit jimmyv.org or dickvitaleonline.com and follow instructions on how to make a donation.