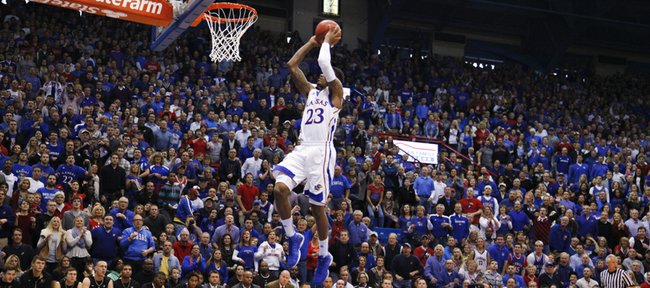 Photo Gallery
KU basketball v. Colorado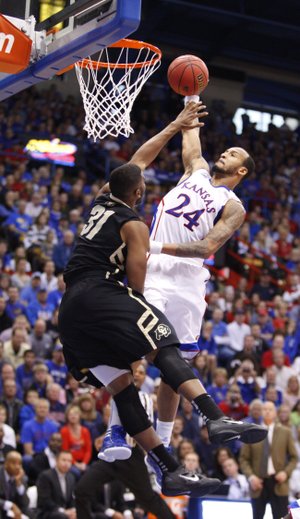 Images from Saturday's game against Colorado at Allen Fieldhouse.
Podcast episode
KU coach Bill Self talks after the Jayhawks' 90-54 victory over Colorado on Dec. 8, 2012.
Podcast episode
Kansas players Travis Releford, Kevin Young and Ben McLemore talk after the Jayhawks' 90-54 victory over Colorado on Dec. 8, 2012.
Box score
His highlight film centers on high-flying, reach-back dunks and soft-falling three-point shots, yet so early in Kansas University red-shirt freshman Ben McLemore's basketball development, he already does so much more to influence the outcome of a basketball game.
McLemore relied on just one dunk and two three-pointers during his 24-point effort that included five rebounds, two assists (three actually, but one mistakenly was credited elsewhere) and two steals in Saturday afternoon's 90-54 annihilation of Colorado in Allen Fieldhouse.
Driving more without forcing it resulted in McLemore's shooting 11 free throws, 10 of which he made. He looked like a player in the process of understanding how to blend in without sacrificing aggressiveness.
To watch such a loud talent play background music when the situation called for it raises the question of whether he has studied a role player closely to expand his game. He has, and his name is Travis Releford.
"He's a great player," McLemore said. "I love Travis. He knows what his role on the team is. He knows what he has to bring to the team to make the team better. He's also a senior. He's been through a lot. I love his game. I love his personality. He definitely can guard. And offensively, he knows it's going to come to him. I just love watching Travis play."
McLemore began practicing with Kansas second semester last season and wasn't allowed to play in games until this season. He began studying Releford well before that.
"I can definitely learn a lot from him and all the seniors," McLemore said. "I told Travis when I got here, before boot camp started, 'I'm going to be watching you. I'm going to be everywhere you are just because I want to learn a lot from you. You've been here a lot longer than me.'"
McLemore's the prodigy in an otherwise all-senior starting five that combined for 15 assists, five turnovers and seven steals Saturday.
"Right now, I get advice from Travis, advice from Jeff (Withey), advice from Kevin (Young), advice from Elijah (Johnson)," McLemore said.
McLemore, the most talented basketball player to show up at Kansas in decades, was involved in a memorable play Saturday with each one of his co-starters, not one of those plays a dunk or three-pointer.
They all came after a spectacular play in which he needed no help. McLemore received credit for a steal when he stripped the ball from Spencer Dinwiddie, tipped it over his head and ran it down to give Kansas a 12-3 lead.
"I tipped it over him so he wouldn't get possession of it and went down and got the easy bucket," McLemore said, making it sound as easy as it looked.
The margin grew to 18-3 when Johnson made his man pick up his dribble in the lane, enabling McLemore to step in front of a pass and take it all the way to the other end for a contested layup made at high speed.
Early in the second half, McLemore had the ball in transition, stopped at the free-throw line and delivered a spot-on bounce pass to Releford for a dunk that expanded KU's lead to 52-22. On that play, McLemore looked about as close to a second-option point guard as Kansas has on the roster.
The rout grew to 63-29 when in such ultra-quick fashion McLemore cut to the hoop and Withey kissed a perfectly angled bounce pass off the floor for an easy bucket. Not many 7-footers can make that pass. Then McLemore threw a perfect lob to Kevin Young to make it 65-29, a play on which Releford (10 points, six assists, no turnovers) received the credit for the assist in the official game statistics.
"On the play before, he was talking to me and saying, 'I'm going to keep running, so look for me.' We got a break and I saw him, so I just tossed it up to him, and we got two points," McLemore said of Young. "The crowd just got into it and made us keep rolling."
The student section of the crowd got into it long before the center jump.
The enthusiasm coach Tad Boyle has injected into the Colorado program showed itself in the form of a strong showing of CU students who scored tickets for Saturday's game.
This was not lost on Kansas students, whose adrenaline was inflated by the sight of enemy colors. KU's students brought their best energy, and the team they worshipped turned it up a notch. Crowd and players sustained the concert atmosphere for two hours.
As far as suspense, not even Jim Ryun in his prime could have run a mile in the time between when the game tipped off and it ended. It certainly wasn't a bad game for the many football recruits in the crowd to witness.
"If you're going to play basketball in college, there's no better setting than playing a Saturday afternoon game in Allen Fieldhouse with the light shining through the windows," KU coach Bill Self said.
Having the privilege of watching a young star such as McLemore shining brighter every week only enhances the experience.