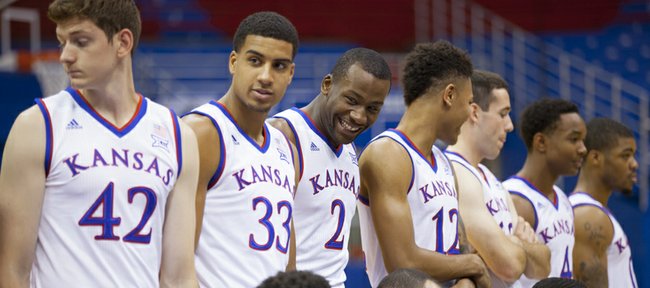 Photo Gallery
KU men's basketball media day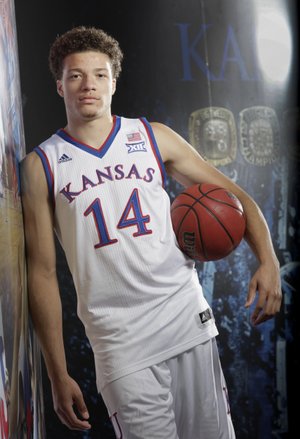 Photos from the 2014 KU men's basketball team media day, Oct. 2, 2014.
Cliff Alexander's teammates say the 6-foot-8 1/2, 240-pound Kansas University freshman is a gentle giant when he's away from the basketball court.
"He's a cool dude, always laid-back," said KU junior forward/fellow Chicago native Jamari Traylor.
"He's like a big teddy bear to me, really cool, funny. I like being around him a lot," sophomore guard Conner Frankamp added of his Jayhawker Towers roommate.
The in-the-dorm version of Alexander differs slightly from that of a big, bruising hulk of a power forward who arrives as Rivals.com's No. 4-rated prospect nationally in the recruiting Class of 2014.
"He's a beast," Frankamp said of the McDonald's All-American who averaged 24 points and 15 rebounds his senior year at Curie High.
Alexander enters beast mode when asked to describe his demeanor in games.
"Mean. Angry. (You) don't want to come here unless you're trying to get dunked on," Alexander said, not a hint of a smile crossing his face. "Once I step between these black lines, ain't no fun. It's personal."
A popular interview target at KU basketball Media Day on Thursday, Alexander said it's easy to separate his aggressive on-court behavior from his off-court gentleness.
"If you get to know me, I'm a nice guy. I like to have fun, crack a lot of jokes. (I'm a) very sarcastic guy," Alexander said.
He's also a modest guy.
On Thursday, the Big 12 coaches named Alexander co-preseason freshman of the year with Texas' Myles Turner.
"Yesterday, coach told me don't pay any mind to it," Alexander said of Bill Self. "That's what I'm doing, letting everything go. I haven't played a game in the Big 12. I don't really think about that stuff too much. I just want to play my game, do what I need to do."
Self believes Alexander is capable of making an immediate impact at KU. Yet, as a mere freshman, he's far from a finished product despite his status as a possible one-and-done NBA prospect.
"I think Cliff can be a physical player. I'm not sure that he knows how yet, because his idea of being physical would be getting three fouls in the first five minutes, so he's going to have to learn how to guard, move his feet, pick his spots," Self said.
"I see some similarities with Cliff and Thomas (Robinson, Portland Trail Blazers). Cliff is probably a little bigger at the same stage, about the same athletically, offensively about the same. Cliff has to get to where he goes after every ball. He did that in high school, so hopefully that'll translate to college. Without question, if he were to play his best, and everybody else were to play their best, I think he would be our most physical player."
Alexander embraces the comparisons to T-Rob.
"I watched him his last year at KU. He did phenomenal. He had a great season, reached the national championship (game in 2012), was top five in the draft. I just love what coach Self does with his bigs and how he develops his players," Alexander said. "It (Robinson's career) influenced me a lot to come here. He's the same kind of guy, my size, does what I do basically, run the floor, block shots, dunk everything."
Robinson played at KU three seasons. Alexander doesn't know how long he'll be here.
"I'm not trying to take it that far. I've not made it far enough to talk about that yet. I'll take it step by step," Alexander said, noting he has heard comparisons between himself and Amare Stoudemire and "a little bit of Dwight Howard. I can see it."
As far as the present, he said he actually enjoyed Boot Camp and is ready for today's first official practice of the preseason. Late Night in the Phog is a week from today.
"Never did so much running in my life. I think I'm in shape. I think I really have gotten into shape," said Alexander, 100 percent recovered from a nasty ankle sprain that sidelined him for several weeks this summer.
He gave that quote in his distinctive voice that has caught the attention of his roomie.
"He has such a deep voice, every time he talks he makes you want to laugh," Frankamp said, quickly adding, "Cliff has a great personality. He's fun to be around."
That's in the dorm and on campus.
"Every time we step on the court ... show no mercy, in my eyes," Alexander said.
More like this story on KUsports.com