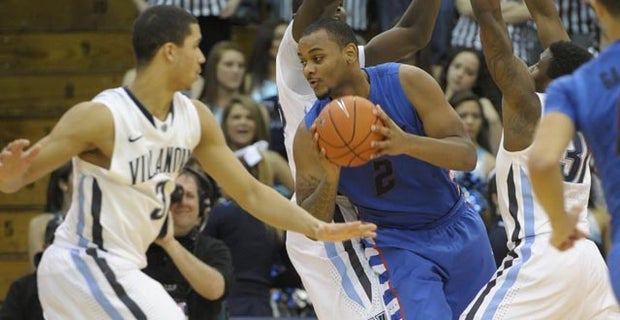 Tommy Hamilton DePaul vs. Villanova 2014 In the 2013-14 men's basketball season, DePaul coach Oliver Purnell decided to dial down his team's tempo a few notches. With a center geared for the halfcourt game like Sandi Marcius in the lineup much of last season, Purnell chose to steer away from his uptempo offense, in favor of a slower pace.


This season Purnell has added some depth and athleticism. With an influx of new, experienced players, Purnell now plans on going back to the high-octane offensive style that we saw in his early years at DePaul. The Blue Demons are adding a number of athletic players in junior college transfer Rashaun Stimage at forward, Illinois transfer Myke Henry, and juco guards Aaron Simpson and Darrick Wood.


With the official start of practice last Friday, Purnell is working on blending in the new talent along with his returning players.



"It's a whole new group," said Purnell. "I'm really pleased with the new group. They bring a lot of athleticism. We certainly plan right now to go back to the style that we are more comfortable with, in terms of going way uptempo. We're bringing in some athletic guys, that really helps. It kind of shores up our backcourt, without question. When you look at Stimage, that's an athletic guy on the front line, which I think is important. We want to be athletic at most every position. It's great when you can put athletes out on the floor, particularly when they can score the basketball."


The progress that center Tommy Hamilton IV has made in the offseason helps the Blue Demons with speeding up the pace. The 6-10 big man has reportedly lost 32 lbs. since June and is now tipping the scales at 255 lbs.



"I think Tommy can fit into any style," Purnell said of Hamilton's ability. "He's getting into great shape. If he matures some, he can fit into any style. He's got to grow and mature. There's no question about it. He'll be fine. Certainly he's going to play a lot of center for us. In that style, he'll be fine, as long as he's in great shape. Obviously we want to get him the ball a lot offensively. His ability to run on the front of the break is fine, but also at the trailer spot, he can be very effective there. Not just catching and shooting, but catches, goes to the wing and go and pick and roll. He's a guy who can pick and roll to the basket or pick and pop. We want to put him in as many of those situations as we can, but with pace."


It's a pace that can make for an exciting brand of basketball and one that DePaul fans can see for themselves when the Blue Demons take on the Division II Lewis University Flyers in their exhibition game on November 6th.