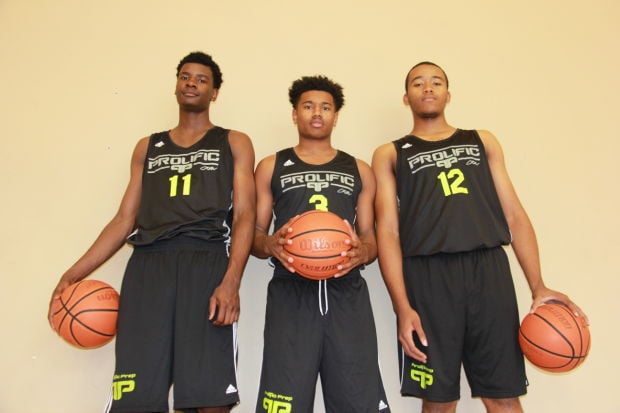 More than 300 spectators showed up Saturday night to see what all the hoopla was about Napa's Prolific Prep Academy, the new boys basketball dream team based in Napa.
Playing its first home game at Napa Valley College, the squad standouts from around the world did not disappoint.
With more alley-oop dunks and no-look passes than most teams have in a season, Prolific Prep rolled past Stoneridge Prep of Simi Valley, 91-62, improve to 5-0 on the season.
Josh Jackson had 21 points, 10 rebounds, four assists and six blocks and Kyle Leufroy had 21 points, four rebounds and five assists to lead the way.
Matt O'Reilly had nine points and two assists, Sasha French added eight points and three rebounds, Ryan Stewart had eight points and four rebounds, and Micah Elan had eight points and three assists for Prolific Prep, which is coached by Philippe Doherty.
You have free articles remaining.
The Prolific Prep players stayed afterward for 45 minutes to sign autographs at halfcourt, many on bright-green T-shirts sold at the event.
"There must have been 50-plus kids on the floor getting T-shirts signed," said Jeremy Russotti, the team's founder and director of training. "We hope to keep that ritual going."
Those who missed the game will have a chance to see Prolific Prep play three times this weekend, when it hosts its first tournament at the NVC gym.
On Friday, it will be Reno International Prep against Diego Hills at 6 p.m., followed by Prolific Prep against Hillcrest Academy (Mesa, Ariz.) at 8 p.m.
Saturday's five-game slate has Hillcrest Academy taking on Elite Prep Education Academy (Palos Verdes, Calif.) at 12 p.m.; Hillcrest Academy against Stoneridge Prep at 2 p.m.; Reno International Prep against Elite Prep Education Academy at 4 p.m.; Reno International High School against Stoneridge Prep at 6 p.m.; and Prolific Prep against Diego Hills (San Diego) at 8 p.m.
On Sunday, Stoneridge Prep faces Diego Hills at 10 a.m.; Reno International High School takes on Elite Prep Education Academy at 12 p.m.; and Prolific Prep plays Reno International Prep at 2 p.m.