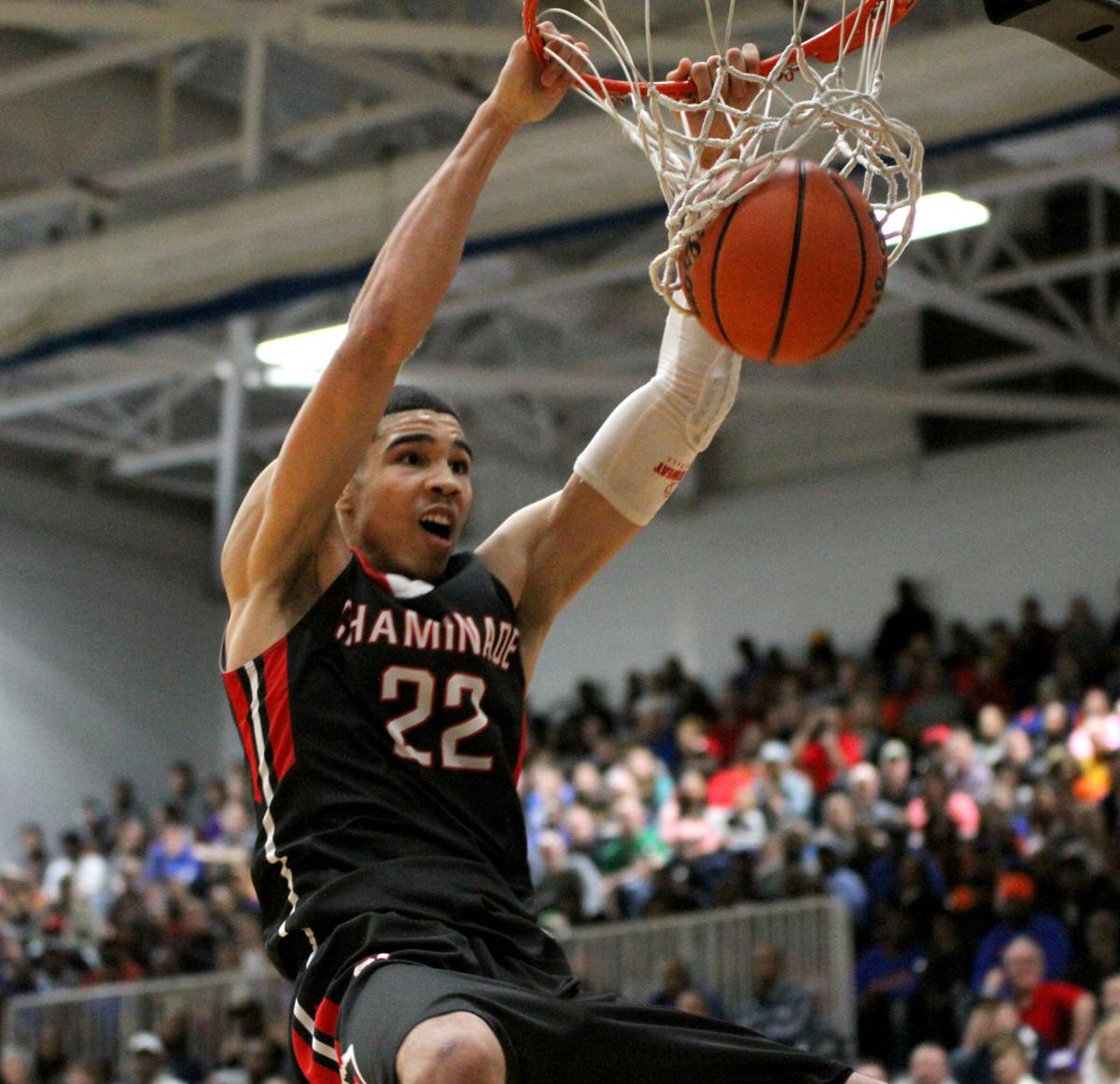 Jayson Tatum feels the hate. In the gym, on social media, it's out there. He doesn't understand it but accepts it.
"I definitely got a lot of that this year," Tatum said. "I first realized it last year when we lost to Ladue (in the district championship). I was kind of shocked to see how much people didn't want us to win."
Tatum, Chaminade's star junior guard, grew in stature this season. The 6-foot-9, 200-pound Tatum averaged 26 points and 11 rebounds as he led the Red Devils to their second state semifinal appearance in school history. He is the No. 1 rated player in the nation by ESPN.com, a three-time Metro Catholic Conference player of the year, a two-time Missouri Gatorade player of the year and was the only junior named a Naismith Trophy All-American. Tatum is the Post-Dispatch boys basketball All-Metro player of the year.
As his national profile grew so did the negativity directed at Tatum, 17. Every time Chaminade took the court it was on the local news. Nearly every home game was sold out days in advance. Road games, too. When Chaminade hosted rival CBC, coached by Justin Tatum, his father, Duke coach Mike Krzyzewski and North Carolina coach Roy Williams were in the Athletictron. The Red Devils were the hottest ticket of the winter. And that drove a segment of the population crazy. A segment that rejoiced when Chaminade's season ended after Park Hill South beat the Red Devils in the Class 5 semifinals.
Tatum, an active social media user with over 13,000 Twitter followers and another 23,000 Instagram followers, was silent for days. That didn't stop the vitriol from pouring in.
"I could care less. I don't go out there to prove anything to anybody," Tatum said. "Those people don't have an impact on my future. I was just upset I let those guys in the locker room down."
Chaminade was the story of the winter. Tatum's future is the story of the summer. Which college will he pick? Will he stay close to home? Who has the best chance to land him?
Jayson Tatum's college choices are hoops royalty.
In the fall, Tatum trimmed his multitude of offers to 10 finalists. He included Duke, Kentucky, North Carolina, Connecticut, Arizona, Kansas and Wake Forest, all of which are among the most respected programs in the nation. Tatum also included St. Louis U., Missouri and Illinois, the top three Division I programs in the area. All of which were somewhere between sub-par and abysmal this winter.
A case can be made for any of the finalists. But his connection to SLU is obvious. Tatum's father played at SLU. His godfather, Larry Hughes, spent one year with the Billikens and electrified the city. Hughes led SLU to the second round of the 1998 NCAA tournament and was a first-round NBA selection that summer. Hughes was recently named one of the 100 greatest players in SLU history and has rebuilt his relationship with the school for which he once played.
Tatum took one official visit this winter. He, his father and his mother, Brandy Cole, spent the last weekend of February at Duke. Tatum and fellow recruit Chase Jeter were wooed by the Cameron Crazies, Duke's lauded student section, as the Blue Devils beat Syracuse.
Tatum has NBA aspirations. The upper echelon of his list has a track record for preparing players to reach the league. It's why many scouting services believe he will land at one of those programs.
"A guy like him, he's going to want to play against elite level competition day in and day out," Evan Daniels, Scout.com's director of basketball recruiting said. "I think he's going to end up at one of these elite schools where not only in the games, but also in the practices he's battling every day and getting better every day."
Tatum believes he can reach the NBA from any program in his top 10. The number of former players that have gone on to the NBA weighs some in his decision, but is not the final word.
"It does but then that would take away from schools like Mizzou, SLU and Illinois that haven't put out guys that are one and done," Tatum said. "I feel like if I put in the time and the effort I can go to the NBA if I went to SLU or North Carolina."
What does he consider the most important aspect of his college decision?
"Really the coaching staff," Tatum said. "Who I feel most comfortable with and who can put me in the best situation to better myself as a player and a person."
Tatum said he plans to trim his list to a final five in the coming weeks. He wasn't sure when he would make his announcement, but expected it sooner than later. 
"Pretty soon I'll be cutting it down to five," Tatum said. "I'm not sure but there's a good chance (it'll be next week)." 
Erwin Claggett did not get enough of Jayson Tatum. Always in search of the toughest competition, the St. Louis U. High coach and one time SLU star point guard got up close and personal with Chaminade and Tatum four times this winter. All four times the Red Devils won. The last in convincing fashion as Chaminade hammered the Junior Billikens 71-35 to win the Class 5 consolation game at Mizzou Arena. In their final meeting, Tatum hit six of his seven 3-pointers, which Claggett said he could live with.
"You have to be willing to give up something and he shot it well," Claggett said. "Those are ones we want him to take."
Tatum is a matchup no one in the area has solved. He terrorized opposing defenders in the MCC. He gives coaches fits as they try to devise a plan to slow him down.
"The best way I can describe it, I imagine it's a little bit like trying to prepare for Magic Johnson. I know that's pretty heavy company, but if you think about it he's a 6-9 point guard," said Vianney's Kevin Walsh, the longest tenured coach in the MCC. "You can't guard him with a post player. You can't guard him with a perimeter player. It presents a lot of challenges."
Tatum's game has shifted as he has matured. As a sophomore, Tatum averaged more than four assists per game, up from the 3.4 he put up as a freshman. This season, he handed out 3.5 assists per game. It was something Walsh and Claggett made mental notes about when preparing to face Chaminade.
"Now he has become a hunter," Walsh said. "He's hunting his shot. He's going to go create scoring opportunities for himself and for others."
Added Clagget, "That's one thing we noticed this year was that he scored the ball a lot more. That was probably because he became a better shooter and a better scorer than he was when he was a freshman. I don't think he was being selfish. I think that skill set caught up with the rest of his game."
Tatum's skill set is so varied he can change it to match whatever his team needs. Daniels watched Tatum play with the St. Louis Eagles in the Elite Youth Basketball League, the U17 National Team, which won the gold medal at the FIBA World Championships last summer in Dubai, and with Chaminade at showcase events. In every setting, Tatum displayed a range of skills that make him such a tantalizing college and professional prospect. Aligned with other elite national players, Tatum showed the ability to be a facilitator.
"I think it's a product of his environment and what that specific team needs him to do. I think his high school team needs him to score points," Daniels said. "When he's surrounded by really good players at camps and in college, he's going to be a very good passer because he has that ability."
Daniels concurred with Claggett that Tatum's ability to put the ball in the basket is among the greatest of his talents and a significant part of why he is so coveted.
"He's turned himself into one of the premier scoring threats on the perimeter in the country regardless of class," Daniels said. "He makes shots from the mid-range with consistency. He's got a bright future ahead of him. With that combination of size, skill and shot making ability he's a special talent."
It's not what his detractors want to hear, maybe they'll chalk it up to more media hype. But Tatum has a precious gift coming — his senior year. He will be at the peak of his physical and mental powers at this level. He has the opportunity to show the city, state and nation what an elite talent looks like when it learns the hard lessons the game has dealt him the past three seasons. 
And if Tatum is disliked for that, so be it. He's not putting up jumpers, lifting weights and improving every day for those that root against him.
"(This season) was the most fun I've had since I've been in high school. This group of guys were extremely close," Tatum said. "We hung out on the weekends. We had a special bond together, staying in hotels, riding on planes, going on out of town trips. That definitely helped us. It was a lot of fun playing on TV and playing the best players in the country. Even though we didn't do what we were supposed to do I had a lot of fun."
How can anyone hate that?