Horne ready for UA camp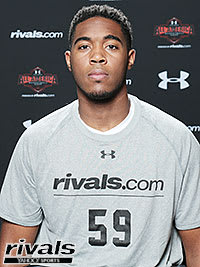 CHARLOTTE, N.C.
-
Jeriah Horne
knows what's on the line this week at the
Under Armour All-America Basketball Camp Powered by Rivals.com
. He's set to have fun, of course, but for the undersized power forward, this could be the week his recruitment really takes off.
"I've been preparing for this day for a while," Horne said. "Ever since I was 15, my goal was to just get better and prove that I'm just as capable as playing as some of these top-ranked guys. So being in this camp has given me an opportunity to show what I've been waiting on the past couple years."
Even without this week's performance, the three-star Kansas City (Mo.) Barstow power forward has already seen some high-major interest pour in.
The K-State one, though, was the real eye-opener.
"It was a big one," Horne said. "To have a school that's close to home looking at me, and for it to be in the Big 12, it shows that I'm progressing as a player and I'm getting better every day."
Horne's plan for the rest of his recruiting process will depend on how his July goes. He said if new offers or interest come in, he'll evaluate those, along with his other options, and figure out his recruitment from there.
"I'm looking for somewhere I can go play and have an impact right off the bat," said Horne, who might visit Iowa State and Minnesota in the next few weeks. "I'm looking for a place that is looking to win championships and where I can grow as a player on and off the court."