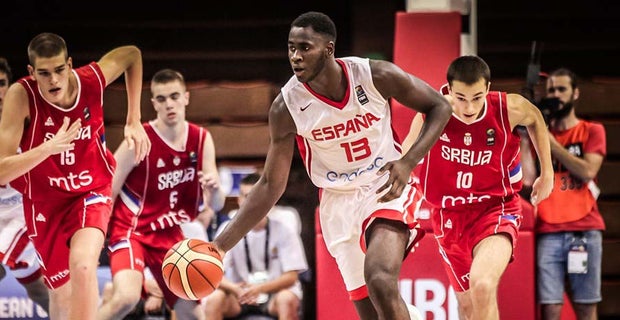 NOVI SAD, SERBIA -- After taking in both divisions of the FIBA U18 European Championships, 247Sports traveled to Serbia for the FIBA u16 A European Championships to see some of the best young prospects in Europe.
The first two days of action proved valuable, as Usman Garuba showed himself as an impressive prospect and the likely favorite to win MVP, plus a number of college-bound prospects emerged as names to watch in the future.
Usman Garuba takes center stage at FIBA u16's
Garuba's 25-point, 16-rebound performance in 23 minutes in a 72-46 opening night victory over Serbia pretty much set the tone for what there's every reason to believe will be a completely dominant week in Novi Sad.
The 16-year old Garuba had a double-double in less than 12 minutes of playing time against Serbia, then followed it up with another double-double in less than 9 minutes against the Netherlands.
The 6-foot-7 power forward reminds you of a Draymond Green/Kenneth Faried/Paul Millsap type in that he's undersized for the position, but uses his physical tools, motor, feel and fearless mentality to grab every rebound in and outside of his area.
Garuba has good touch around the basket, plays consistently as hard as possible, is a very good passer and versatile defender. While Garuba is better around the basket than facing up, he showed confidence with his midrange jumper and even scored using a fadeaway.
Garuba won the MVP of this event two years ago and is well on his way to taking it home again in 2018.
OTHER STANDOUTS
Ariel Hukporti, C, Germany
Hukporti was surprisingly left off the Germany FIBA u18 European Championship squad and instead the 2020 center played his second straight year in the u16 Euros, an event he used a year ago to break out as a high major prospect. Hukporti has very good size at 6-foot-11, long arms, improved mobility from last year, better footwork and touch, good passing ability, rebounds his area and his jumper has made strides. While Hukporti can improve as a rim protector and defender, he's where you want a 16-year old center with his physical attributes to be at this stage of his development.
Louis Lesmond, SG, France
The 6-foot-4 shooting guard is moving to Chicago for his sophomore season, where he's likely to be a highly recruited prospect in the 2021 class. Lesmond has good size, long arms and can really shoot the ball. He still has plenty of room to gain strength, which should only help him as a driver and defender, whereas right now he's more of a shooting specialist from the perimeter. If Lesmond can add to his handle and improve athletically as he gets stronger, he'll take his stock to the next level.
Jaron Held, PG, Netherlands
One of the best finds from the FIBA u16A European Championships was this 6-foot-2 lead guard. Held, who reportedly has a 6-9 wingspan, is a two-way player that has an aggressive style on offense and is a potential lockdown defender on defense. The southpaw has a quick first step, is a talented ball handler and he's tough to keep out of the paint. Held hit runners, dished out assists to teammates and disrupted things on defense in our viewings. Held's next step is becoming a more consistent threat as a shooter, although he is capable of making shots.
Moussa Diabate, PF, France
When 247Sports released the first batch of 2021 rankings in late July, Diabate, who goes to school at Arcadia (Fla.) Florida Prep Academy, debuted at No. 7 overall. Pushing 6-foot-9, Diabate has good size for the position with a lean frame and decent length. Diabate is fluid moving up and down the floor and showed potential offensively. Diabate has good hands, nice touch around the basket and even flashed a right jump hook over his left shoulder. Through three games, Diabate is averaging 14 points, 9.7 rebounds and 1.7 steals a game.
Rodijs Macoha, PF/SF, Latvia
One of the two standouts in our viewing of Latvia was this 6-foot-7 combination forward. Macoha played with tremendous energy, was active on the glass on both ends of the court and showed versatility as an offense threat. Macoha looks to face up and drive the ball and plays well through contact on his way to the rim, where he can finish with either hand. Macoha also showed an ability to make catch and shoot jump shots. The next step in his development is improving his ball handling and consistency. Macoha is averaging 12.7 points and 9.3 rebounds through the first three games of the event.

NEWS & NOTES
•Turkey's Tibet Gorener is a 2020 prospect that will head to the United States and enroll at Montverde (Fla.) Academy for his junior season of high school. Gorener is a tall, long and lanky wing prospect that showed good shot mechanics and shooting ability. More than just a catch and shoot guy, Gorener decked it and scored it at the rim in multiple viewings. He's averaged 13 points and six rebounds through three games.
•Montenegro's Fedor Zugic is just 14 years old, but he still managed to catch our eye in two viewings. Listed at 6-foot-5, Zugic showed a versatile scoring attack and the Montenegro staff ran play after play for him, including running him off pindowns and putting him in ball screen situations. Zugic is a confident shooter from distance and is capable of making shots on the move and off the bounce. He gets his feet set quick, has good shot preparation and mechanics. His second game of the event, Zugic went off for 29 points on 11-for-12 shooting, including a pair of three-pointers.
•To go with Held, the Netherlands u16 team had a handful of intriguing prospects. Jediael Cordilia, a 6-foot-7 versatile forward, was a standout and he's headed to the United States for his sophomore season of high school hoops. Cardilia is slated to attend West Nottingham in Maryland. He's long, mobile, and showed potential as an offensive threat.
•Jaryam Saizonou and Yannick Kraag were also players to watch on the Netherlands team. Saizonou is a combination guard that can score. He has a quick first step, is aggressive off the bounce and competes on both ends of the court. Kraag is a wing prospect that's pushing 6-foot-6. In our first viewing, Kraas made multiple jump shots and played with energy.
•Latvian center Kriss Helmanis was impressive in his 7-point, 9-rebound debut against the Netherlands. The 16-year old has good size, plays very hard, outstanding instincts as a rebounder, range to the perimeter with his jumper and impressive touch around the basket. Latvia has some quality young up and coming talent and Helmanis is one of the more intriguing prospects in the country.