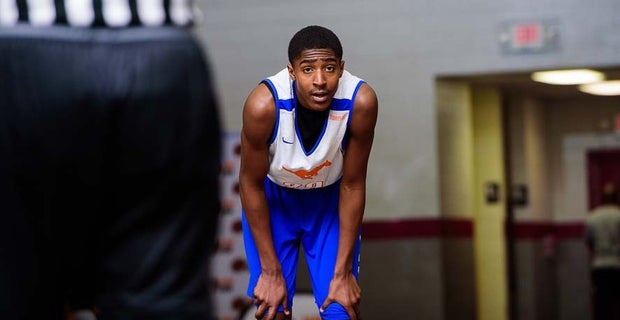 BRENTWOOD, Tenn. -- There's been some big basketball names to come out of Brentwood (Tenn.) Academy over the years. Current NBA player Brandan Wright and former McDonald's All-American and incoming Vanderbilt freshman Darius Garland immediately come to mind.
Next up at the school, which is nestled just outside of Nashville, is guard Randy Brady.
Brady, who played his freshman season in Chattanooga at the Baylor School, enrolled at the school over the summer and is expected to have a major impact as a sophomore.
"I'm definitely excited," Brady told 247Sports during a recent open gym. "I can't wait until the season starts."
Pushing 6-foot-4 and blessed with long arms, Brady is a slashing type perimeter prospect. He possesses good athleticism, does a good job of finishing at the basket and is a multi-positional defender with major upside on that end of the floor.
"Randy has a very high ceiling as a two guard," Brentwood Academy coach Hubie Smith told 247Sports. "I cannot wait to see how he develops and expands his gifts. He is a great athlete with a high basketball IQ."
"I'm at my best in the open floor and fast breaks most of the time," Brady said.
Brady noted the next step in his development is improving as a shooter and expanding the range on his shot.
Brady has already begun to build his national profile. During the summer, Brady had big showings for Brentwood Academy at team camps and played on a loaded We All Can Go team in Las Vegas.
Both settings led to scholarship offers. Florida State, Mississippi, Tennessee, TSU and Vanderbilt have offered so far. Brady also cited interest from Oklahoma State.
"It's going pretty good," Brady said of the process. "I'm taking it as it comes, not really forcing anything."
Thus far Brady has taken one unofficial visit.
"I went on one to Vandy but none other than that," Brady said. "It was nice. It was a nice facility, great facility."
At this point, Brady doesn't have any other trips scheduled, but there are two schools he wants to see in the near future.
"I do want to go see Florida State," Brady said. "I hear they have a nice campus and I hear UT has a nice campus as well."
Brady is currently ranked No. 23 overall in the 247Sports Composite and is regarded as a five-star recruit.