TARKANIAN CLASSIC: Shutout surge gives Gorman big cushion
December 16, 2015 - 11:57 pm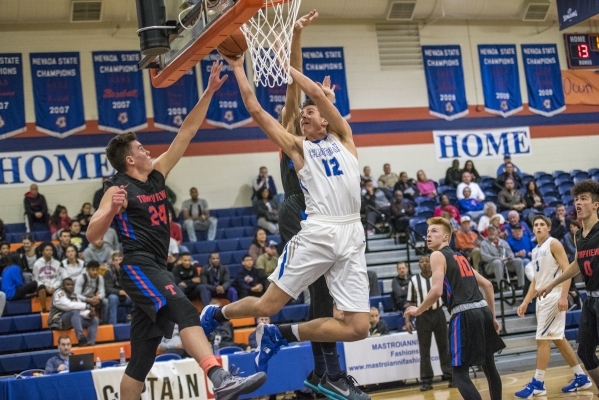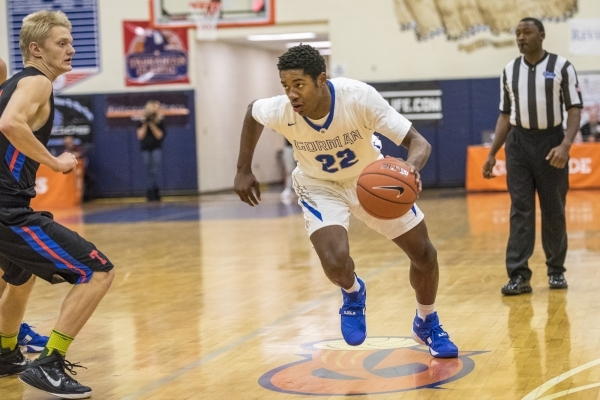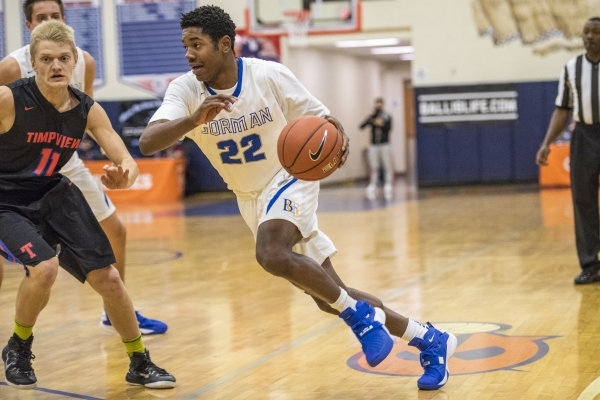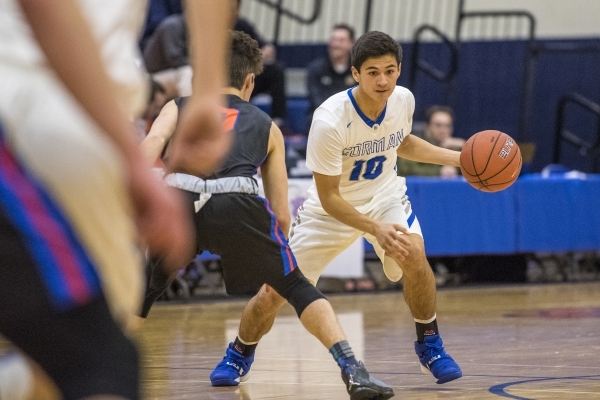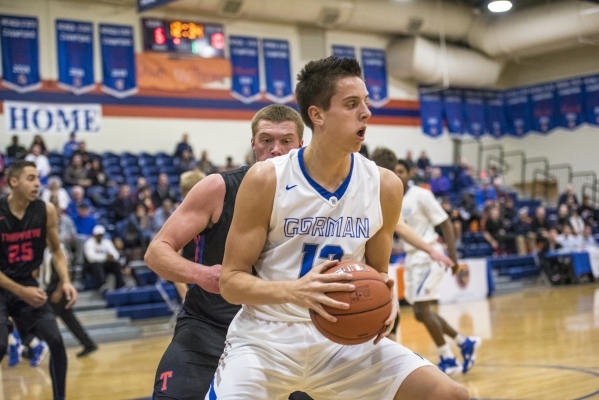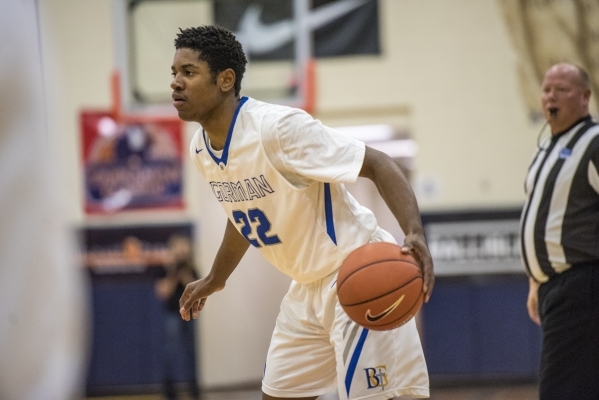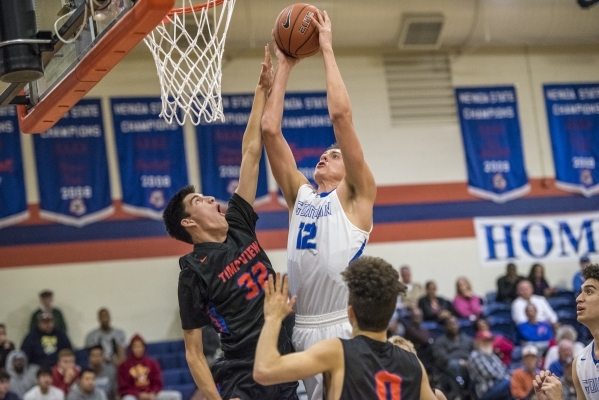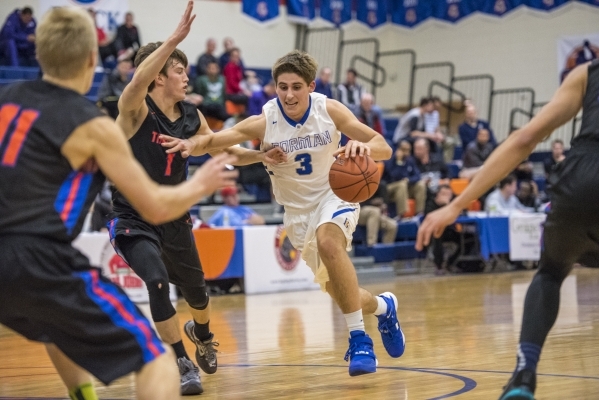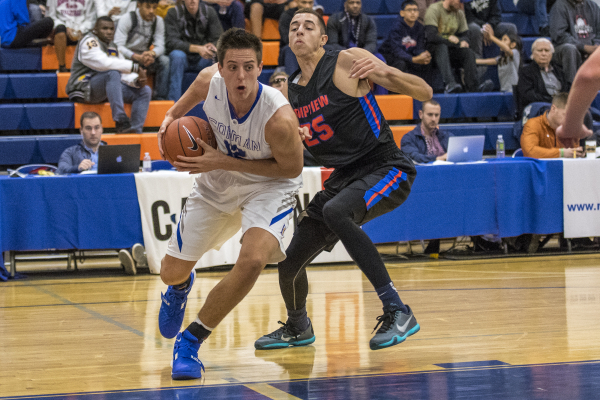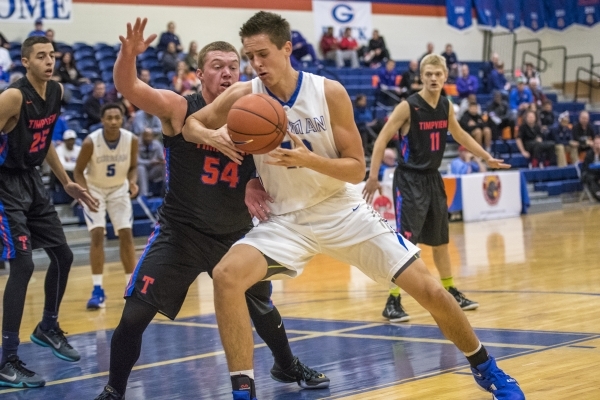 Bishop Gorman boys basketball coach Grant Rice was not pleased with his team's defensive performance during the final five minutes Wednesday.
Compared to the way the Gaels played defense in the first half, how could he be?
Charles O'Bannon had a team-high 20 points, and host Gorman held Timpview (Utah) scoreless for more than eight minutes in the first half en route to a 73-62 victory in the Platinum Division of the Tarkanian Classic.
"We started pressuring a little more," Rice said about the first half. "It's funny. These things go in such streaks. It'll be kind of a slow-paced game and then all of a sudden it'll speed up and you'll get hot and go on a big run."
Zach Collins, a Gonzaga signee, compiled 12 points, eight rebounds, five assists and three blocks for Gorman (5-1), which will meet defending Platinum Division champion Redondo Union (Calif.) in the quarterfinals at 5:20 p.m. Thursday at Gorman.
The Gaels led by as many as 28 points on three occasions in the second half, the last coming on a dunk by Jamal Bey with 5:20 left that put Gorman up 67-39, before a flurry of 3-pointers by Timpview made the final margin more respectable.
Gorman shot 54 percent from the field (27-for-50) and forced the Thunderbirds into 18 turnovers.
Chase Noma'aea came off the bench to supply 10 points and five rebounds for Gorman, and Travis Rice added nine points on three 3-pointers. Rice, the son of UNLV men's basketball coach Dave Rice, hit two 3s as part of an 11-2 run to open the second half.
"That was a big game for him because his dad was at (Brigham Young) for so long, so he grew up with those kids," Grant Rice said. "He went to school with most of those kids there growing up, in middle school and stuff like that. That was a big game for Travis, to see him go 3-for-3 and the three 3s and to play well."
Gorman got off to a slow start and trailed 10-6 early before going on an 18-0 run to take control. O'Bannon had nine of his 13 first-half points during the run as the Gaels went into halftime with a 35-18 lead.
Christian Popoola's 15-foot jumper gave Gorman a 53-25 lead, and Collins' putback midway through the second half put the Gaels on top 57-29.
Colson Santiago finished with 20 points and made six of Timpview's 11 3-pointers. Levi Wilson added 19 points for the Thunderbirds.
"I thought we did a really good job through the first three-quarters of the game," Grant Rice said. "It's hard to hold a big lead like that. I was happy. A lot of guys got a chance to play. I thought our first six or seven guys were really good."
Centennial-Corona (Calif.) 63, Desert Pines 59 — At Gorman, Capri Uzan poured in 31 points, but the Jaguars couldn't hold a late lead and fell to the Huskies in the Platinum Division.
Desert Pines will take on Westchester (Calif.) Thursday in the consolation bracket.
Trevon Abdullah and Greg Floyd each finished with 11 points for the Jaguars.
Uzan made four consecutive free throws after Centennial was called for a technical foul and hit a 3-pointer on the ensuing possession to give the Jaguars a 51-47 lead with a 5:58 remaining in the second half. Abdullah's 3-pointer put Desert Pines up 57-55 with 3:50 left to play, but the Huskies answered with an 8-0 run, including a slam dunk by Jalen Hill that put Centennial ahead 62-57 with 1:40 to go.
Jordan Griffin led the Huskies with 17 points, and 6-foot-10-inch UCLA signee Ike Anigbogu finished with 15 points for Centennial.
Findlay Prep 79, Wasatch Academy (Utah) 61 — At Gorman, Markus Howard finished with 23 points, and the Pilots overturned a two-point halftime deficit to beat the Tigers in the Prep School Division.
Howard had 16 points in the second half, including four 3-pointers. Findlay Prep made nine 3s in all.
P.J. Washington had 14 points, and Tristan Clark scored 13 for the Pilots, who opened the second half on a 31-12 run and led by as many as 20 points.
Koby McEwen led Wasatch with 15 points, and Milan Surlic added 13 points for the Tigers.
Durango 71, John Muir (Calif.) 55 — At Gorman, Jason Landman led four players in double figures with 18 points, and the Trailblazers downed the Mustangs in the Gold Division.
Durango meets Lynwood (Calif.) in the quarterfinals Thursday.
Chase Ruiz had 11 of his 17 points in the first half as the Trailblazers led 39-23. Michael Diggins added 16 points, and Demetrius Valdez scored 10 for Durango.
Simaine Stewart and Hunter Woods each scored 18 points to lead Muir..
Redemption Christian Academy (N.Y.) 72, Sierra Vista 51 — At Gorman, Maka Ellis had a game-high 20 points in the Mountain Lions' loss to the Lions in the Gold Division.
Lerone Gibson added 10 points for Sierra Vista, which trailed 40-23 at halftime.
Christopher Duarte finished with 17 points as 11 players scored for Redemption Christian.
Clark 72, St. Anthony (Calif.) 51 — Darius Jackson scored 15 of his game-high 24 points in the first half as the Chargers built a 38-24 halftime lead and cruised by the Saints.
Jackson also had a couple of the game's most thrilling moments. He had a put-back slam over a St. Anthony defender in the first half and added a reverse alley-oop dunk in the second half.
Keyshaun Webb, who scored Clark's first nine points of the game, added 12 points for the Chargers, who also got 11 points apiece from Trey Woodbury and Ian Alexander.
Clark stormed out to a 27-13 lead with 4 minutes, 12 seconds left in the opening half and never was threatened after.
Dante Williams had 16 points, and Damani Whitlock scored 13 for St. Anthony.
Villa Park (Calif.) 88, Liberty 55 — Cameron Burist scored 29 points and went 11-for-12 from the free-throw line in the Patriots' loss to the Spartans.
Evan Battey had 21 points and Jason Reed added 15 points for Villa Park. Julien Franklin had 13 points, and Myles Franklin scored 12 for the Spartans, who led 40-20 at halftime.
Faith Lutheran 71, Campbell County (Wyo.) 67 — Zach Friel led four double-figure scorers with 20 points to lead the Crusaders by the Camels in overtime.
Elijah Kothe and Gary Tharaldson each added 12 points, and Luke Bergen scored 11 for Faith Lutheran, which led 36-23 at halftime. The Crusaders outscored Campbell County, 9-5 in overtime.
Dalton Holst led Campbell County with 23 points, and teammate Kain Morehead added 15 points.
Las Vegas 66, San Bernardino (Calif.) 50 — Deondre Northey scored a game-high 34 points, including 18 in the second half, to power the Wildcats by the Cardinals.
Donovan Joyner added 10 points for Las Vegas, which outscored San Bernardino 42-29 after halftime.
Rahsaan Kayanda led San Bernardino with 21 points.
Cheyenne 52, Fossil Ridge (Colo.) 49 — William Moore scored 12 of his 20 points in the second half to rally the Desert Shields past the Sabercats.
Kavon Williams had 13 points for Cheyenne, which trailed 19-16 at halftime.
Braxton Bertolette had 19 points to lead Fossil Ridge. The Sabercats were only 6-for-15 from the free-throw line.
Cathedral Prep (Pa.) 57, Adelson School 48 —Jalen Pitts scored 14 points, and Jacob Elharrar contributed 12 points in the Lions' loss to the Ramblers.
Jake Buchman added nine points for Adelson, which fell behind 24-16 at halftime.
Carter Cross had 17 points to lead Cathedral Prep. Jaryn Simpson and John Bowen each added 11 points for the Ramblers.
Clay County (Ky.) 76, Western 52 — Kwan Carter scored 20 points in the Warriors' loss to the Tigers.
Dalair Muhammad made four 3-pointers and finished with 18 points for Western, which played only five players.
Blake Smith had 24 points, Trey Farmer added 18 points and Wes Wolfe scored 11 for Clay County.
Summit Academy (Utah) 68, Coral Academy 52 —Isaiah Spears scored 21 points in the Falcons' loss to the Bears.
Brennan Rosales added 12 points, and Kaleb Robinson scored 10 for Coral Academy, which trailed 27-26 at halftime.
Darrin Gethers led Summit with 28 points. Armani Montgomery had 16 points, and Gavin Rindlischbacher scored 12 for the Bears.
Box scores:
Clark 72, St. Anthony (Calif.) 51
Villa Park (Calif.) 88, Liberty 55
Faith Lutheran 71, Campbell County (Wyo.) 67
Las Vegas 66, San Bernardino (Calif.) 50
Cheyenne 52, Fossil Ridge (Colo.) 49
Cathedral Prep (Pa.) 57, Adelson School 48
Clay County (Ky.) 76, Western 52
Summit Academy (Utah) 68, Coral Academy 52
Redemption Christian (N.Y.) 71, Sierra Vista 51
Bishop Gorman 73, Timpview (Utah) 62
Centennial-Corona (Calif.) 63, Desert Pines 59
Durango 71, John Muir (Calif.) 55
Findlay Prep 79, Wasatch Academy (Utah) 61