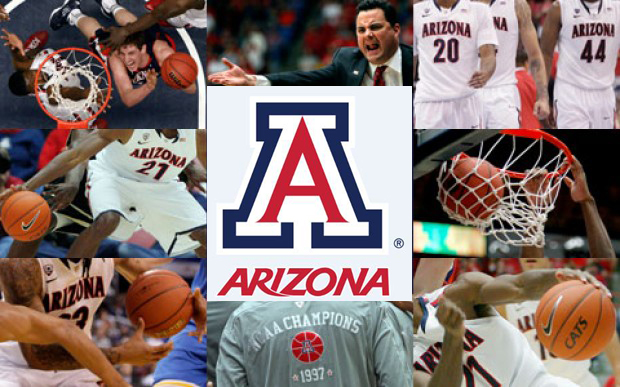 Among the questions facing the Arizona Wildcats this season is whether an experienced, vocal East Coast point guard can blow into town for a year and mesh with a mix of younger returnees and newcomers.
But Mark Lyons started addressing the issue even before he moved to UA from Xavier over the summer as a fifth-year graduate transfer.
"Before I committed, I called everybody (on the team) and said, 'How do you feel? Do you think this and that?'" Lyons said. "They all said, 'We need a point guard.' They all welcomed me with open arms. So it was a real easy decision for me to come here."
Lyons continued easing into things by developing relationships, saying the exhibition trip to the Bahamas earlier this month greatly helped the Wildcats get to know one another.
"The first thing I try to do with teammates is become their friend," Lyons said. "That's more important because there's life after college basketball. Being a friend and knowing they can trust you on and off the court makes it easier.
"It wasn't hard. We all welcomed each other. We went to the Bahamas. It was a great trip, and it seems like we all get along. No problems."
Lyons, however, isn't shy. He says he is all about accountability - for himself and teammates - and UA senior forward Solomon Hill watched Lyons talk intently with freshman center Kaleb Tarczewski on the court in the Bahamas.
"He fits in great," Hill said. "He's as verbal was MoMo (Jones, former UA guard) was, very verbal and making sure everybody is on point. And he's a guy who's been there. He can control egos. He can keep guys in line.
"I think some of the guys will understand the type of guy he is - he's not yelling at you to get you mad or trying to get on your bad side. He's yelling at you because he sees a good player in you."
A few other things are making it easier for Lyons, of Schenectady, N.Y., to adjust to Arizona.
For one, Lyons already has a friend in UA forward Kevin Parrom. Lyons hosted Parrom for a 2008 visit to Xavier, where the Bronx forward originally signed before opting to follow coach Sean Miller to Arizona in 2009, and the two have stayed in touch since then.
"Besides Kaleb (who is from New Hampshire), he's the only East Coast dude," Lyons said of Parrom. "He knows the ins and outs of the lifestyle in the West. We always talked. When he had his injuries, I was there calling to make sure he was good."
Second, Lyons says he's impressed with Tarczewski and the UA's other young big men, suggesting he won't hesitate feeding them the ball.
"Coach Miller told me the guys we have coming in are great kids," Lyons said. "Everybody wants to get better, and you can see it. We've got All-Americans coming into our program. I've never played with any All-Americans. So to see how hard they work and not just rely on their talent is a great thing for a point guard."
Third, Lyons doesn't really have to adjust to the system itself. He was recruited by Miller to play at Xavier, and spent a year under Miller there as a redshirting freshman in 2008-09. Then he played the past three seasons under Xavier coach Chris Mack, who worked under Miller at Xavier.
"There's not really a big difference," Lyons said. "It's just that I have a different school on my chest. They run the same things mostly, passing game and things like that. I feel like I'm in a new home with the same tools around me."
For Miller, it's an easy transition, too. He gets an experienced point guard who already worked through essentially the same defense at Xavier, and has only a few offensive adjustments to make at Arizona.
Miller just has to let Lyons be himself, a scoring-minded point guard who found himself in more of an off-guard role alongside star Tu Holloway at Xavier last season. The chance to play point guard was what Lyons said drew him to Arizona - "that's what everyone kept selling me on, that it's Point Guard U," Lyons said - but he also has some scoring DNA that Miller won't ignore.
In fact, Miller said he may even move Lyons off the ball at times while having either Jordin Mayes or Nick Johnson handle point guard duties.
"To try to make him somebody who doesn't think (in terms of) scoring wouldn't allow him to be the best basketball player he can be," Miller said. "That's what I want him to be. There's always going to be those times he'll look to score, and I think that comes more natural to him. But it's just being able to run our team, be able to make clever plays, be able to make his teammates better. His experience is his greatest gift.
"It's not as if we're trying to teach somebody who hasn't been through a season of college basketball to play the point guard."
Indeed, Lyons has already played in 98 college games, was on two Sweet 16 teams and has scored 1,194 points. Last season, he averaged 15.1 points, 3.2 rebounds, 2.8 assists and 1.3 steals per game while becoming a third-team All-Atlantic 10 Conference pick.
He also learned a high-profile lesson when he was suspended for two games after Xavier's infamous crosstown brawl with Cincinnati last season, though Lyons said he is largely the same player after last season.
That a player of his experience and stature was available this fall is a result of an NCAA rule that allows players who graduate with eligibility remaining to play immediately at a new school instead of sitting out the required redshirt year.
The rule is controversial, with supporters saying it rewards academic-minded players with the freedom to move for a final season and detractors arguing coaches can spend years developing somebody only to have him leave as a potentially valuable fifth-year player.
"I wouldn't be surprised if they change that rule," Miller said. "But that's the rule right now. And I'm sure glad it was in place this year."
Be the first to know
Get local news delivered to your inbox!