Recruit lands Cal offer... and dozens more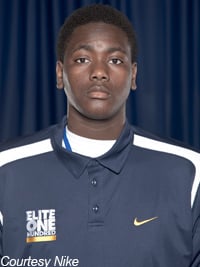 It's not easy to stand out on a team with a pair of 2013 4-Stars (Karviar Shepherd and Jordan Mickey) and the No. 3 rated player in 2014 (Emmanuel Mudiay).
A student at Dallas' Prime Academy, the talented big man owns one of the nation's most impressive offer sheets -- regardless of class.
Still only a sophomore, Thomas needed just 12 minutes to notch 18 points and five rebounds against national power Huntington Prep (W.V) on January 4.
A week later, he stole the show again, pouring in 15 first half points against ABCD Prep.
"I've been hearing from
Duke
,
Georgetown
,
SMU
, Cal,
Illinois
,
Indiana
,
Florida
, [Texas] A&M, NC State,
North Carolina
,
Ohio State
, and
LSU
the most," he told
GoldenBearReport.com
on Wednesday.
All that attention, however, hasn't softened the Texas native's work ethic.
At 6'9" and a hulking 235lbs, Thomas has evolved from a below the rim bruiser to a versatile playmaker.
"Before I transferred to Prime, I wasn't known for getting steals, getting blocks, and dunking on people," commented Thomas. "I was just a skilled big man that everyone said wasn't that athletic, so I started pushing myself even harder. I started working on my shot so that I'm able to knock down the open three and the 16-footer."
The 4-star prospect isn't just receptive to instruction, either: he courts it.
"Some colleges, when I talk to them, they come and see me play and give me pointers and advance my game just like that. I like that."
The good news for Cal fans: Thomas has hit it off with associate head coach
Travis DeCuire
.
"All the coaches recruiting me are good," said Thomas. "Coach DeCuire, especially. He's really cool. You can tell he's really good at recruiting. I like him a lot."
A 3.7gpa student who, by all accounts, is a top-15 prospect destined for 5-Star status, has also been keeping tabs on the Bears' recent success.
"Yeah, I've been following them," he said. "I like the way they move the ball and have multiple options on the floor at all times."
System aside, Thomas hopes to land somewhere "that's a big family."
"I'm not really into the whole 'stay in your city' thing," he added, and a program's "reputation is not going to factor in, at all."
So is the coveted Big considering a visit to Berkeley in the near future?
"Oh definitely. I'm thinking about it for sure."