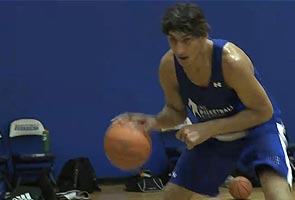 He is 7 feet tall, weighs a little over a 110 kg, and could well be the one who will make India play serious basketball. And he has time on his side. For Satnam Singh Bhamara is all of, hold your breath, 14.
The kid from a small Punjab village is making waves in the US for his potential. Spotted at a training programme for Indian students at the IMG Academy in Florida, Satnam is being talked about as a likely NBA player.
That is a big deal. The NBA has never had an Indian player.
Little Satnam, if I may call a seven-foot-tall child that for he is only 14 after all, is one of eight Indian students, four girls and four boys, that are being trained at the IMG facility. They went there in September this year for a three-month scholarship programme, but those watching say it is unlikely that Satnam will merely finish training and be back in India to play basketball on his school team.
It has been a delight to discover and look for more on Satnam. NDTV.com user EVR Sastry sent us a link. Thank you Mr Sastry. Catch...is all about discovery and this particular one is thrilling.
I also found this promotional video of Satnam and the other seven basketball players at the Academy, posted by IMGReliance. Catch Satnam there - he obviously stands out. Catch that innocent child's face with a shy smile and stars in the eyes above that imposing adult-like body. How much taller will he grow, I wonder, in the next three or four years. The mind boggles.
Some quick trivia on Satnam. He is not interested in cricket. He began playing basketball after he heard his father's story about wanting to play the game but having to tend to fields instead.
Satnam's father is 7'2" tall, his paternal grandfather is 6'9" tall.
The link that Mr Sastry sent in has a lot more details. Worth a look:
http://nba.fanhouse.com/2010/11/10/nba-awaits-satnam-from-india-so-big-and-athletic-at-14/?ncid=txt

We are crawling the Web for more great videos, tweets pictures, blogs and people that just must be showcased. If you spot some that make you stop and stare,
send them in here.
We'll be happy to credit it to your spidery efforts on the WWW.