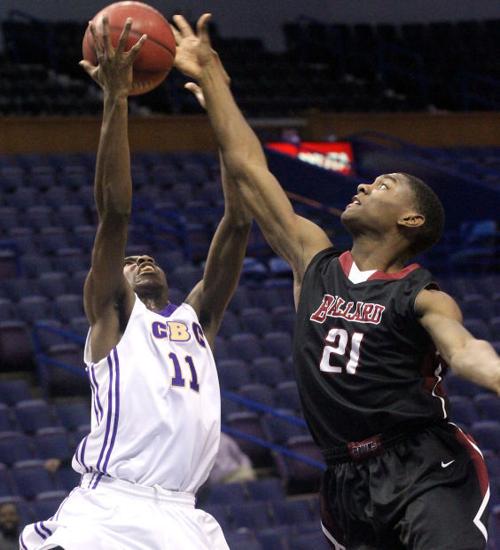 ST. LOUIS • Justin Tatum stalked into the locker room at halftime with some words of encouragement.
Many of which may or may not be suitable for print.
The CBC coach did, however, push the right buttons for his team as the Cadets dug themselves out of a halftime hole to walk off with an impressive 75-68 win over Ballard (Ky.) in the finale of the Coaches vs. Cancer Shootout Thursday at Scottrade Center.
"I had an encouraging talk with my team," Tatum said. "They got it back together and played CBC basketball in the second half."
The No. 2 large school in the STLhighschoolsports.com rankings, CBC (8-4) trailed 29-23 at the half. The Cadets shot 9-of-33 from the field, 0-8 from the 3-point line and combined for two total assists.
"He got on us pretty bad," senior shooting guard Beau Bommarito said. "We came out and played pretty well in the second half."
Had it not been for the heavy lifting of 6-foot-7 Jordan Barnett, the Cadets would have been buried. The big man with the bounce scored 16 points and grabbed 11 rebounds in the first half. He would finish the night with 26 and 17. The rest of the lineup found itself in the third quarter as CBC outscored Ballard 25-15.
Sophomore point guard Jordan Barnes ended the night with 11 points and a showcase record 10 assists, all of which came in the second half. Bommarito had 17 points and Christian Willis had 10 after shooting a miserable 2-for-10 in the first half.
"It took composure. We came out a little hesitant and rattled," Bommarito said. "We got some stops on defense, got some layups and that got everyone's confidence up."
With Barnes whipping the ball to and fro, the Cadets sliced apart Ballard's full-court pressure for layups time and again. It was a stunning turn around from the first half. Tatum said his team's recent trip to California to play in the Holiday Classic against some of the nation's top teams paid dividends in the second half.
"Our composure wasn't there (in the first half)," Tatum said. "Our composure helped us. Out there in California and they were being physical like (Ballard) started to be we were throwing the ball away left and right. Tonight, in the second half, we got a chance to step through it, look down the court and see where the open man was."
CBC outrebounded Ballard 46-38 and scored 17 second-chance points.
Ballard was led by Kelan Martin, who had 20 points and 13 rebounds. Malik Dow had 11 points and 10 rebounds. Louisville recruit Quentin Snider had 19 points.